5 Reasons Why a PeriPage Pocket Printer is a Perfect Gift
5 Reasons Why a PeriPage Pocket Printer is a Perfect Gift

Imagine an entire printer reduced to the size of your pocket, accessible to you at all times. 
Doesn't it sound like a concept out of a sci-fi movie? Years ago, this notion would have been entirely dismissed.
However, humanity is now in an era wherein technology is constantly evolving, and there are no limitations on what it can achieve. 
Welcome to the future


You can now obtain your very own portable printer, available to you at your convenience, and of course within easy reach. 
If you are an artist, craftsperson, student, or even a regular employee, you have likely experienced the annoying frustration of continuously having to buy or replace ink cartridges and photo paper for various printers over the years. 
Thankfully, portable printer technology now allows for inkless printers. Bid farewell to irritating and bulky packages of photo paper, toxic ink cartridges, and prohibitively expensive ink refills. 
Photo printers are affordable, user-friendly, and easy to carry, and they are a convenient way to produce high-quality photos instantly! 
Now envision gifting such an innovative and revolutionary item to a loved one. Get ready to receive the "best gift" award at your next family gathering. There is no doubt that a mini portable printer will generate enthusiasm and excitement in anyone who receives it as a gift.
Let's dive into why an inkless pocket printer is essential to upgrade your life and why it is deemed the perfect gift to give.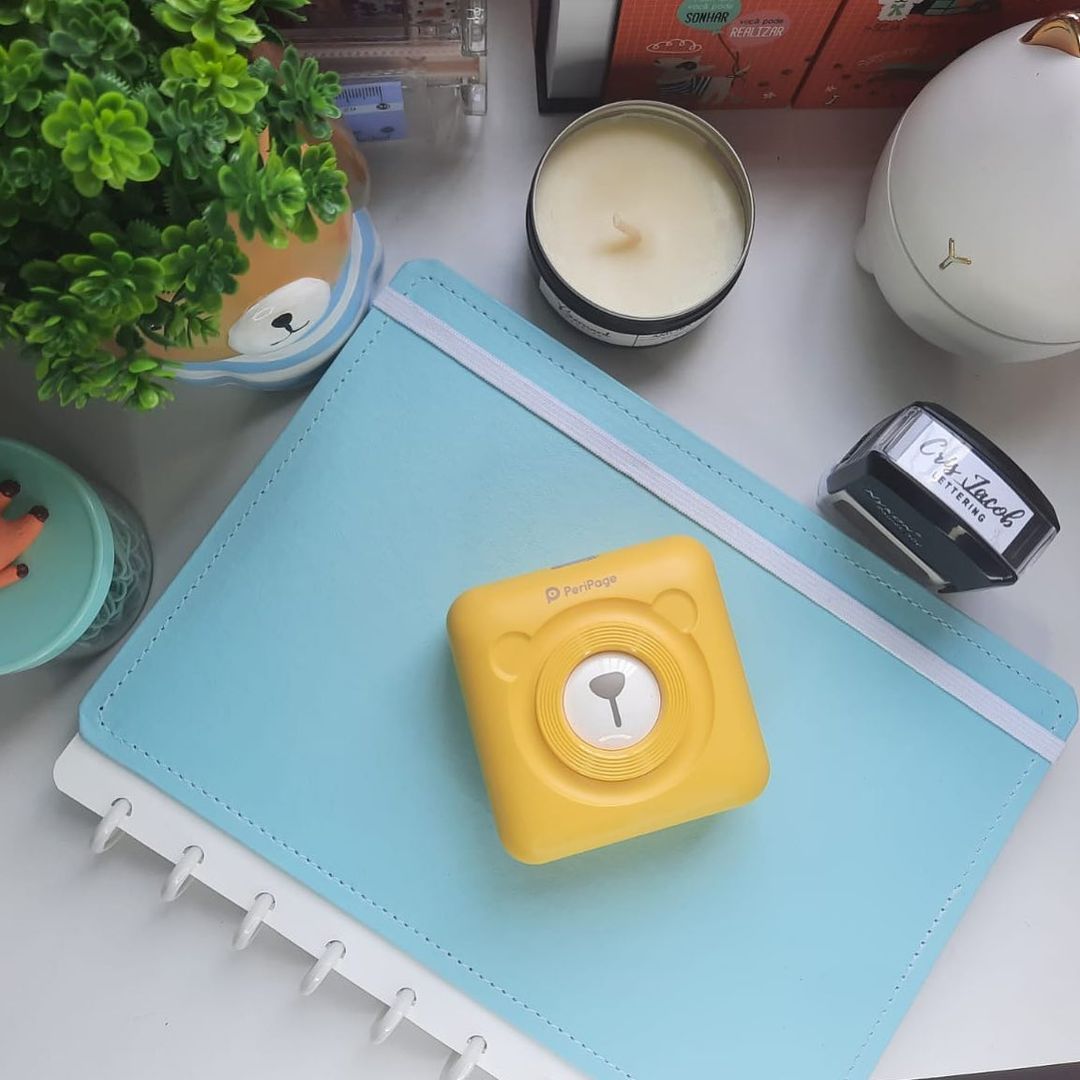 What is a pocket printer?
A pocket printer uses heat-based technology for inkless printing. Ink and toner are replaced with thermal printing, which is done by applying heat to dye crystals that produce high-quality prints. 
Thermal paper is used, and the printed sheets are waterproof, oil-proof, and scratch-free. These prints last for up to 25 years. 
Say goodbye to the complicated and messy assortment of wires that are connected to a printer. By simply downloading an app, wireless printing can be done with just a few taps on your smartphone. No more lugging bulky packs of paper and buying expensive ink cartridges. PeriPage Printer has a whole lotta love for planet Earth and has created a highly sustainable printer!
These convenient gadgets are portable and available in different sizes ranging from being able to fit onto the palm of your hand, to the size of a family photo album. These sizes are categorized as small, medium, and large. They differ according to your printing needs and vary in cost.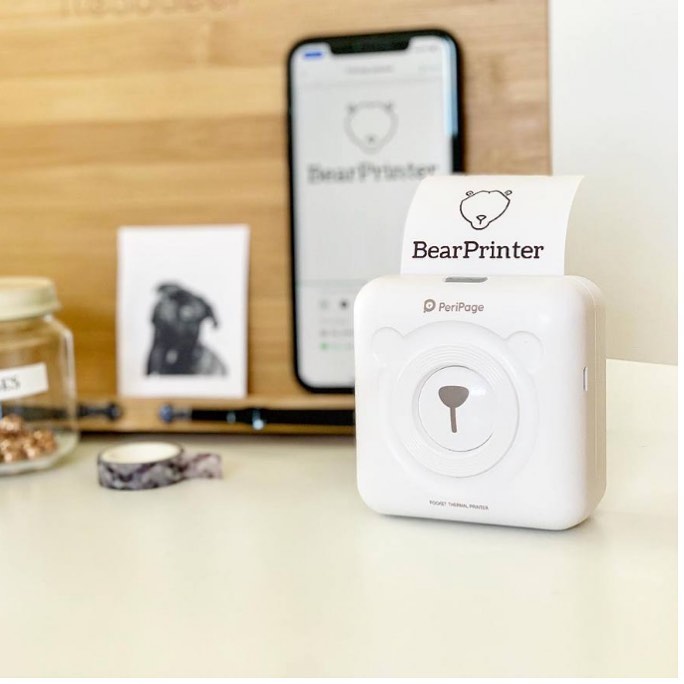 How does zero ink technology make environmentally friendly photo printers?
In a research study conducted in 2021, the authors found that inkjet printers have adverse effects on human physiology and the environment. The results emphasized how wasteful it is to use the vast amounts of ink and toner that so many industries indulge in, especially when it is very difficult to recycle inked paper.
Ink and toner cartridges contain petroleum oil, non-biodegradable plastic, hazardous chemicals (lead and chlorinated compounds), heavy metals, and many other toxins which destroy the environment and accumulate waste. These contaminants lead to water and soil pollution. Plastic from the cartridges takes thousands of years to degrade, where it will continue to disperse pollutants, damaging the soil.
On the other hand, ultimately reduce your carbon footprint. By avoiding the use of ink cartridges and toners, less waste is generated, helping preserve the environment. For all these reasons and more, PeriPage pocket printers are the best portable photo printers. They utilize a specific type of printing material that is sustainable and does not require refills. This environmentally friendly inkless technology is safe, cost-effective, convenient, and uses less energy!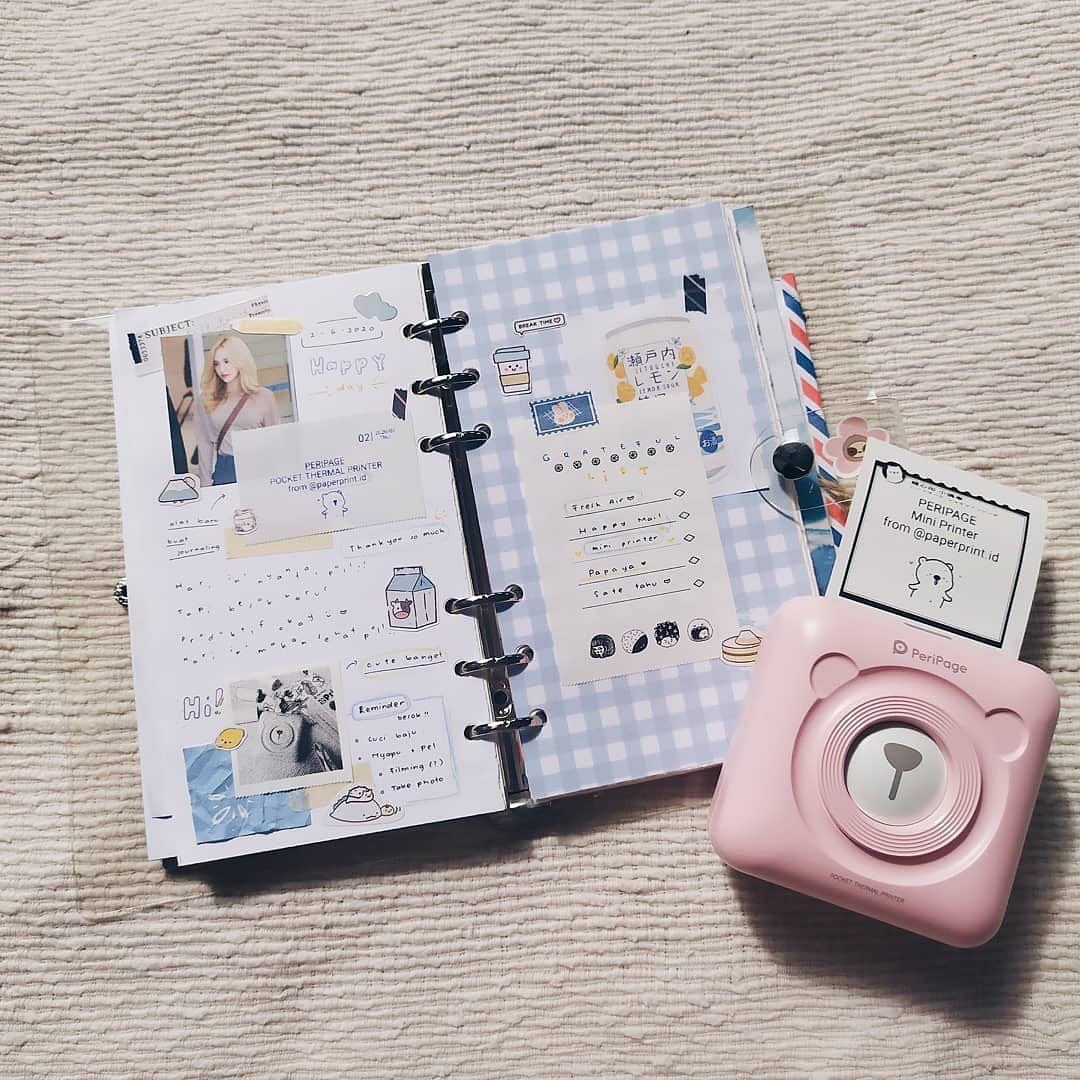 Are portable photo printers the printers of the future?
Imagine reaching inside your bag and pulling out an object that can print photos, notes, and all sorts of useful items. The "printing on the go" PeriPage is truly the future. No matter where you are, you can print whatever you want. Smartphones and tablets make all types of documents and photos readily available for viewing and printing. There's no need for heavy computers and complicated ports and cables! Portable photo printers allow you to single-handedly upgrade your life and create more space for other items. 
Would a compact photo printer make a great gift?
Here are five reasons why we think portable printers make a great gift:
1.  Bring memories to life by capturing and printing them instantly
Imagine being at a music festival with your best friends. Sure, you can post a fun selfie on Instagram anytime you want. But imagine easily printing out that perfect photo and gifting it to your best friend as a beautiful memento of your time together. This simple gift speaks volumes!
2.  Print notes for school or work
Staying organized is tough, whether you're a student or an employee. Portable printers allow you to easily print notes for school or work with no hassle. This can help your messy friend stay organized with finals, presentations, and more!
3.  Create & print art for home décor or personalized gifts
Say hello to your new arts and crafts tool! Easily personalize your belongings by printing a unique design onto your favorite objects! PeriPage Printer can make you an artist without even trying!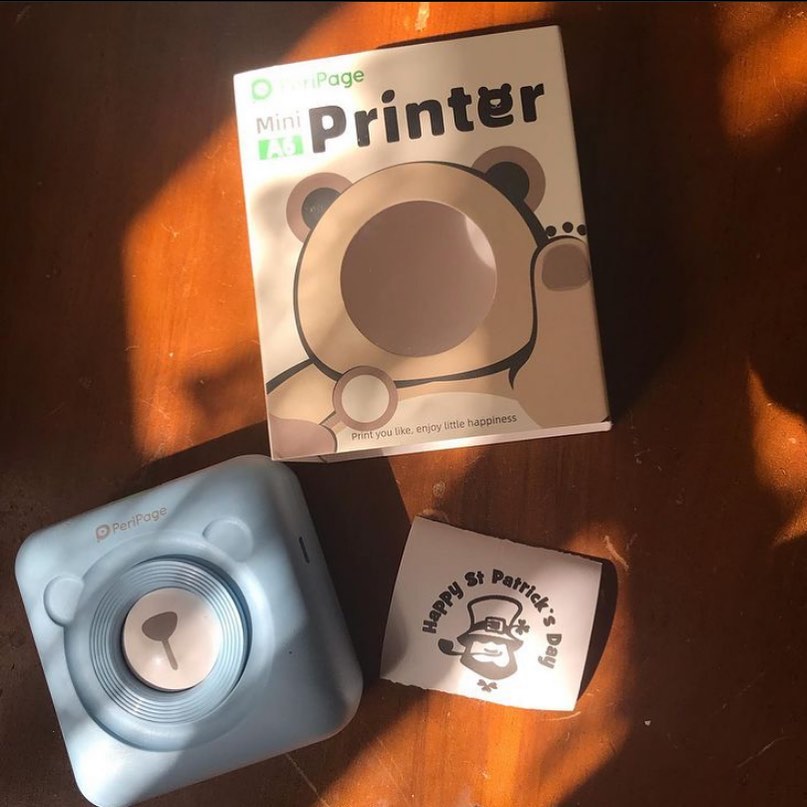 4. Tech gifts are always fun
Who doesn't love receiving a fun techy gift? This advanced technology has so many practical and aesthetic uses—what's not to love?
5.  Switch to an eco-friendly printing device to reduce your carbon footprint
Give the planet a gift! After all, Earth deserves it. Buying a PeriPage Printer is pretty much like getting the planet a present as it is one of the most sustainable printers on the market. Ditch the expensive and toxic ink cartridges and be one with nature!
What are the perfect occasions to buy a PeriPage Printer as a gift?
Birthday gift 
There's nothing better than printing photos from a birthday celebration as the party goes on! Giving a PeriPage Printer as a gift means you can print all the wonderful memories for the celebrant as soon as you capture them.
Christmas or holiday gift
Regardless of what type of holiday you celebrate, any gathering will be livened up by printed photos from a brand new PeriPage Printer.
Any other celebration: graduation, promotion, new house
Humans have been capturing and preserving memories for thousands of years, and the best portable photo printers are nowhere to make it easier than ever. If a loved one is getting a fresh start on a new stage of life, photos are the best way to commemorate their journey.
Why PeriPage?
Imagine if your Fujifilm Instax mini, Polaroid Hi-Print, or Kodak Mini 3 Retro was able to do much more than just print photos. PeriPage is an innovative, inkless, and portable printer that allows you to print anything using your smartphone or tablet. It is travel-friendly and uses Bluetooth technology.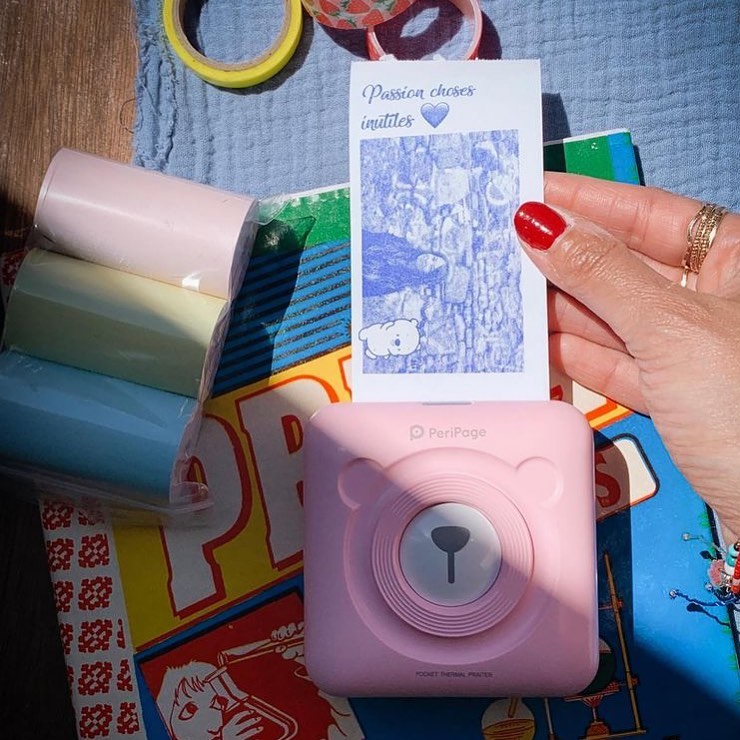 Print on the go
By simply downloading the free PeriPage app onto your phone (available on iOS and Android), you have access to all sorts of tools and resources that help make your printing experience even better. Connect to wi-fi -> turn on your Bluetooth -> open the PeriPage app -> start your printing!
The app for your portable photo printer gives you the ability to edit and alter your photos or notes from your mobile device before printing. The PeriPage app is an all-in-one app that caters to all of your needs with many unique features such as special templates, scanning options, document printing, and many more.
Effortless charging
The PeriPage Printer photo printer has a built-in rechargeable battery that can last for up to one week before requiring another charge. The micro USB port makes charging a breeze!
High-end print quality
PeriPage Printer is aesthetically pleasing, durable, and affordable. It comes in a variety of different sizes ranging from small, medium, and large. The print quality is phenomenal no matter what size or type of photos, notes, or documents you want to print. This fun and exciting technology will have everyone wanting to have their own mini portable printer. 
Time to print
Many people are stuck in the past with their heavy and complicated printers, contributing to environmental damage through toxic ink and bulky cartridges. It is time to replace your Fujifilm Instax Mini, Polaroid Hi Print, instant camera, or Kodak Mini 3 Retro by purchasing a portable printer for your photos, stickers, and more. Ditch the past and step into the future by purchasing your very own eco-friendly, portable photo printer.
Bring precious memories to life instantly by printing them on the go.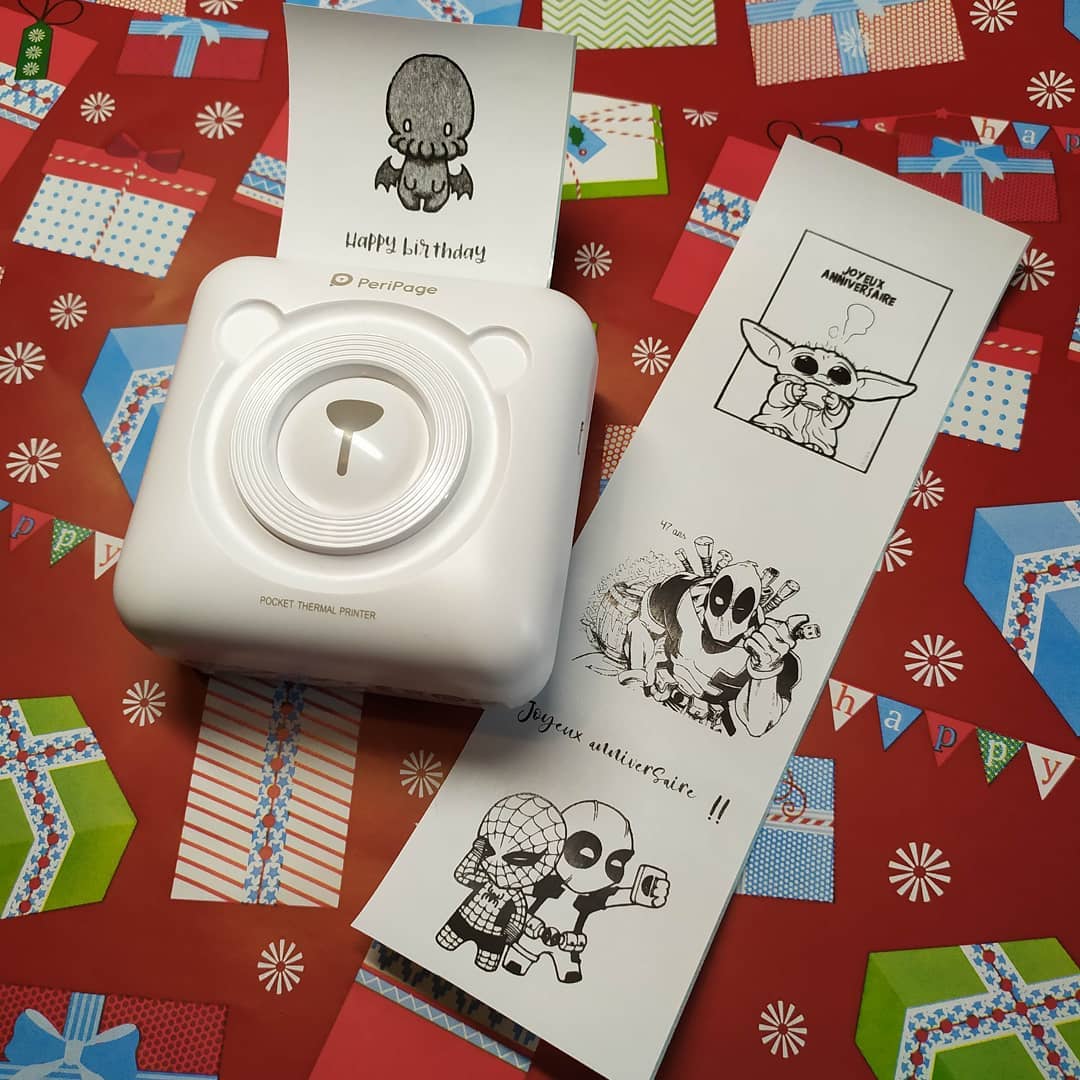 Turn creative ideas and art into printable creations. Immediately print the notes you need for school or work. Use your phone to print pictures from your camera roll and social media instantly. Stop writing messy to-do lists and print one instead. All you need to do is download the PeriPage Printer app and fire up a Bluetooth connection to activate your mobile printer.
You cannot go wrong by gifting a PeriPage Printer product to your friends, family, and coworkers. Buy one for yourself and your loved ones today!
Share this post